Gateway Community Organization (Gateway) is a 501 (c) 3 non-profit organization.
We are the heart of the City of Detroit, known as the Old North End.
Gateway serves a 6 x 3 block area from Woodland Street on the north to Belmont Street on the south, between Woodward and Oakland Avenues.
Gateway's mission :
1. To promote the growth and development of the community by improving the quality of life
2. To provide homestead enhancements.
3. Strengthen Families.
4. Reduce neighborhood blight.
5. Deter juvenile discord and promoting civic awareness.
LET'S STAY IN TOUCH
For additional information please contact us using the form below.
Call us: 313.744.4283
Or Email us: info@onegatewaycommunity.org
                                       PLEASE PARTICIPATE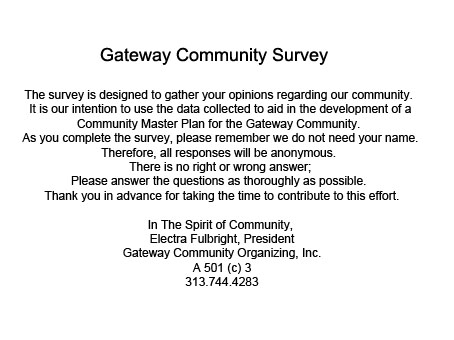 Click Here to participate:   https://goo.gl/BcTcDL